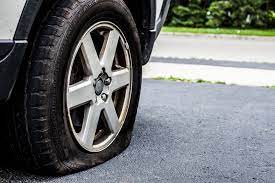 Yep, a lovely Colorado pothole got you! It's flat as flat can be so now it is time to go shopping.  You visit your favorite tire store at which point, you are trusting the salesperson to help you through the process.  You don't really know what you want, which brands are the best, what is best for your car, which tires fit your driving habits etc. Next thing you know, you are driving away with a brand new set of snow tires.  
But, umm, you spend your winters in Arizona…
Unfortunately, the same thing could happen when you are "shopping" for a senior living community. Do you know what questions to ask? Do you know what is important to you and your Mom or Dad? For example, not all communities provide care for insulin injections. Not all communities accept pets. Not all communities have a pool. Not all communities provide transportation to Doctor's appointments. Not all communities provide gluten-free options or special diets and so on…
When you call Senior Living Navigation, the first thing we do is have an in-depth conversation and ask a detailed list of questions to uncover your needs, wants, desires, financial and geographical considerations, clinical needs, dietary needs and so much more. Based on our discovery, we research to find at least 3 communities that can provide what is important to your family! We narrow down the options for you, set up the tours, and we even go with you on the tours to help guide you through the process.
And, unlike those expensive snow tires, our service is FREE to you and your family! The community that you ultimately choose most often compensates us for the referral.
Our goal is to help you find the perfect fit so that hopefully you don't ever have to go "shopping" again. Call or email today so that we can, at the very least, start the conversation!
Valerie Pennock
Senior Living Navigation
720-255-8894